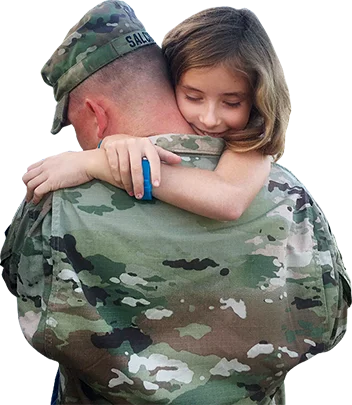 VA 30 Year Fixed Rate is:

6.250

%
A.P.R.

6.465

%
Lower rates are available (with more points) Continue reading and see our assumptions for current VA loan rates.
Our VA interest rates are typically lower than large, national competitors such as Veterans United, Navy Federal Credit Union and other large corporations.
Why do we have lower rates? Because:
We operate a MUCH "leaner" company, with low overhead and far fewer fixed costs to run a business.

We partner with all the best and largest regional and national wholesale and Correspondent VA underwriting platforms, such as Fairway Independent Mortgage and Rocket Mortgage. They provide us wholesale rates that you cannot get. As a "retail" lender, we pass these programs on to you through our mortgage banking operation.

We pick & choose which partner is best suited for your VA loan and which partner has the best "price" - in Lehman's terms, the lowest rates.
Our company structure ultimately achieves much LOWER rates for you than the average VA loan rate. 
Credit scores, loan balance and VA loan purpose have such a significant impact on VA loan rates. Because of this, we recommend a customized and accurate quote of today's current VA mortgage interest rates for your specific situation. Please call us at 949-268-772 today for a quote.
VA home loan interest rates & programs are as varied as the menu at The Cheesecake Factory – lots of pages & lots of choices!!!
Because VA mortgage rates are a big topic, let's break all this down into four categories: 
Let's begin with Common VA Home Loan Rates & Program Choices.   Veterans often ask about 30-Year VA Rates, 15-Year VA Rates, Jumbo VA Rates, Current VA Rates, etc.  Much has changed in 2020, so we cover it all.
There are several "Types" of VA Loans and their rates vary. We cover the VA Adjustable - VA Hybrid Loan here because it's an unusual loan.  Cash out rates and IRRRL rates are also covered in this section.
Next, it important to Compare VA Rates to FHA & Conventional Rates.
And finally, Rate Adjustment Scenarios to VA Loans are an important topic because there are many factors that influence the change in a VA loan rate, especially 30-Year Fixed VA loans!
Common VA Home Loan Rates & Program Choices
30 Year VA Mortgage Rates are the most common program & rate choice for active military and Veteran borrowers is the VA 30-year loan.  This is the "plain vanilla" choice for good reason.  3o-year rates offer the lowest, most predictable, long-term payment.  Click the link for a deeper dive and today's average of 30 Year VA loan rates.
In our experience, Veterans want an affordable VA loan, so messing with 15-year VA rates, which have higher payments…that's just not on the radar, now is it?  We don't believe so, but it's worth a comparison, so check out more on 15 Year VA Mortgage Rates.
A lot has changed with VA lending thanks to COVID-19.  The turbulence is significant in the secondary market after the VA loan is funded, sold and securitized by Wall Street, ultimately to be included in the GNMA instrument. Get the latest update here because the VA Rates 2020 Update is critical to understanding your current rate and closing cost choices.
Some lenders are not making VA jumbo loans anymore.  We are still very active in this market.  Find out how to navigate the search for the best VA Jumbo Rates right here.
Let's take a look at the rates for different types of VA loans!
Types of VA Mortgage Loans and Their Rates
VA Adjustable Loan Rates:  3-yr & 5-yr adjustable rates or "VA hybrid loans"are rarely chosen by our Veteran clients, but they do play a minor role in the marketplace and are still funded about 3-5% of the cases, primarily on refinances.  Get a detailed description of how VA ARMs work here.
VA Cash-Out Refinance Rates:  Rates for VA Cash-Out Loans can LEAP UP, depending on the final loan-to-value, especially over 90%, so it's best to chat about your specific situation with one of our Sr. VA Loan Technicians because you do not want to make a mistake on this one!  Please call us today at 949-268-7742.
VA IRRRL Rates:  Rates for IRRRLs or VA streamline refinance loans can often be lower than VA purchase or cash-out rates.  This fact is critical to understand id you're just trying to get a lower rate and lower payment.  Find out why VA IRRRL rates are lower here.
Compare VA rates to other rates!
Comparing VA Home Loan Rates to FHA & Conventional Rates
If you have money for a down payment, it is very useful to compare VA home loan rates to other programs.  In most cases, especially if you are a Veteran exempt from paying the VA funding fee, the VA loan rates will trump FHA and Conventional rates.  Take a good hard look at the comparisons here.
VA Home Loan Rates vs. FHA Loan Rates: Typically VA Loan rates are "ever so slightly" higher.  You may not even notice the difference.  Find out why and what's best for you here.
A truly valuable comparison of rates occurs when you pin VA Loan Rates vs. Conventional Loan Interest Rates  VA rates are almost always lower, and you can't beat the zero down feature.  The most important time to understand the difference is when you you are considering "freeing up" your VA entitlement by refinancing your VA loan to a conventional loan.  Take the deeper dive here!
VA rate adjustments are common.  Learn more!
Adjustment Scenarios to VA Home Loan Rates
Below are several scenarios where VA Home Loan Rates are often adjusted.  Each scenario has a different set of circumstances influencing the adjustment of the rate
In the early 80s, the "no closing cost loan" was invented (for VA home loan rates and conventional loan rates).  Often VA loans can be closed without costs paid by the borrower.  There are many circumstances that can produce this result!  Find out more about VA No Closing Cost Rates here.
VA Loan Rates with Discount Points:  VA rates with discount points are lower.  Who pays the points?  Is it worth it?  Find out if it's the right move for you here.
VA Loan Rates with Low Credit Scores:  Thanks to the VA Loan Guaranty, great rates are available even to those with low credit scores.  Don't wait to "build better credit" and try and improve your scores.  Call 949-268-7742  to discover what you qualify for today!
VA Loan Rates with Seller Credits:  On a purchase transaction, if the seller has agreed to credit you funds for closing, sometimes you can get a lower rate.  Find out how that works here.
VA Rate Buy-Down:  Your VA loan rate will be lower with a "buy down."  What does that mean?  How does it work?  Is it the right choice for you?  Find out more here.
VA Loan Interest Rate vs. A.P.R.:  Quoted interest rates are always different than the Annual Percentage Rate (A.P.R.)  Find out which you should focus on here.
As you can see, VA loan rates are different based on many different program choices, and they influenced by conditions surrounding each individual transaction.
As Seen on ABC 10 5:00 O'Clock News