VA Cash Out Refinance Rates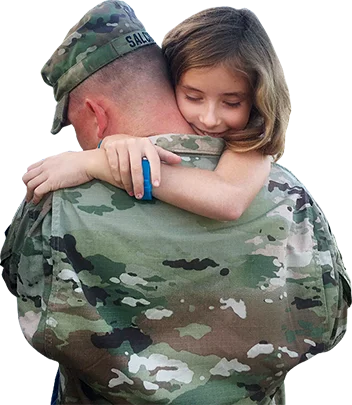 At SoCal VA Homes, our lowest VA cash out refinance rates today are always LOWER than , the average VA rate collected from several online sources.  
Because rates can change several times in one day, please call 949-268-7742 to get an accurate quote from one of our friendly Sr. VA Loan Professionals.
If you are thinking about making home improvements or consolidating debts, there are two reasons to embrace VA cash out refinance rates:
If you're receiving VA disability, you will very likely not have a funding fee. This is a huge benefit, lowering your loan amount and borrowing costs!
If you're borrowing 90% or less of the value of your home, your VA interest rate options can be the best available vs FHA or conventional options!
You're not alone, home improvements or debt consolidation are the biggest reasons for taking cash out of your home equity. For any need that will require a lump sum of money, this type of refinance can be a helpful tool. And, if you qualify, again VA cash-out refinance rates are some of the lowest in the mortgage marketplace. Click here for today's, regular low VA home loan rates.
What affects the VA cash out refinance rates?
Here's what can greatly affect your rate on any VA cash out refinance.
Credit Score
Loan to Value > 90%
VA Lender's "appetite" for cash out loans
Automated underwriting approval
This VA loan enables you to refinance your existing mortgage for more than you owe. Utilizing your available equity, the net proceeds after paying off your current loan and any closing costs – the remaining funds – these funds are then wired into your bank account as "cash out" of your home to use as you please.
You don't need to have an existing VA loan to do this. You CAN convert a non-VA loan to a VA loan through this product. However, you will have to meet minimum VA eligibility requirements, and live in the home to qualify.
Can I take out all my equity in my home using a VA loan?
In most circumstances, the answer is yes.
The maximum amount you can borrow with a cash out  loan is based on the allowed loan-to-value ratio for that product. All Conventional and FHA loan products allow somewhere between 80% and 95% loan-to-value (LTV), when computing cash out LTV limits. However, with a VA loan, you can often borrow up to 100% of your home's value.
So, if your home is worth $500,000 and you owe $400,000, you could borrow and additional $100,000 with our VA 100 cash out refinance. However, make sure and ask your Sr. VA Loan Technician about the rates at differing LTV amounts. VA guidelines have changed recently, making VA cash out refinance rates higher from LTVs between 90% to 100% Loan-to-Value.
Are VA cash out refinance rates higher?
VA cash-out refinance rates may or may not be higher, considering the following:
Nearly always lower, compared to conventional cash-out rates
Higher, when exceeding 90% loan-to-value, compared to typical VA cash out
Lower borrowing costs when exempt from funding fee - therefore lower relative A.P.R.
Credit scores can have an impact on your final rate, making it higher or lower
A cash out refinance carries more risk than a regular (rate and term) refinance because the loan amount is larger than your current loan. Underwriters are typically qualifying you for higher payments on the new loan than vs. your current payments. When making conventional loans, both the cash-out component of the loan and the credit scores represent "layers" of risk in the view of the underwriter. The less remaining equity and the lower the credit score, the higher the available conventional rates rise, corresponding to the higher stacking of the risk layers.
As an example, the rate available for a cash-out loan to 60% LTV with a credit risk score of 760 could be 0.75% lower than the rate for an 80% LTV cash-out loan with a credit risk score of 640 (if that loan can even get approved.)
However, when you're offered choices for your VA cash out refinance rates, you'll notice that the increase of the rate is nowhere near as much as the increase in conventional rates, as the remaining equity shrinks. Furthermore, the change in rates as the credit risk score decrease is also not as significant compared to conventional loans. This is because the VA loan Guaranty protects the lender against losses on the first 25% of the loan balance in case of default. It's a game changer to the available rates on a VA cash-out loan!
And if you are disability rated by the VA and eligible for a VA loan, you are exempt from paying the VA funding fee, which is a huge advantage on a VA cash out loan. This funding fee exemption will dramatically reduce you're A.P.R. and your final payments because of the lower loan amount compared to those Veterans who are not exempt.
What is my VA cash out refinance rate today?
Compared to all the other rate options, VA cash out refinance rates are amazing, especially if you're are disability rated by the VA. In his book, founder Peter Van Brady devoted the entire chapter 22 to this VA cash-out loan advantage.  Call 949-268-7742 to speak with one of our Senior VA Loan Technicians at SoCal VA Homes to get a personalized quote today!
As Seen on ABC 10 5:00 O'Clock News