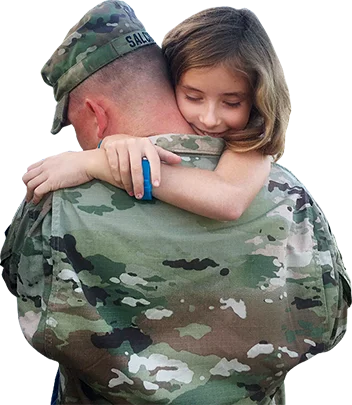 Veterans: A VA cash out refinance loan allows you to replace your current loan with a new one and get a check straight from closing for home improvements, debt consolidation or any other uses.
If you want to take cash from of the equity in your home a cash out refinance VA loan could be the perfect option for you even if your current loan is a conventional loan.
And you can use this money as you choose:
Pay off old debts
Pay for school,
buy a new car, or payoff a car loan
make some needed home improvements
or take a well-deserved vacation!
There are no restrictions on how you use the cash.
Compare All Your Options
Some Veterans who recently purchased their home and have built a little bit of equity may want to consider our VA 100 Cash Out Refinance program. If you really need that last 10% of equity, this VA loan is your absolute best option.
Veterans who have lots of home equity should compare other options, such a getting a home equity line.
In his book, Peter Van Brady makes a valuable comparison of all these options that Veterans have when considering accessing their home equity.
Final loan amounts & rates for cash out VA loans can vary significantly depending on your exemption from the funding fee, LTV and credit scores. For this reason, we HIGHLY recommend calling 949-268-7742 to speak with one of our Sr. VA Loan technicians to discuss the variations and your loan choices.
Advantages of a VA Cash Out Refinance
Some additional benefits to the VA cash out refinance program include:
It is easily possible to end up with a below-the-market interest rate compared to conventional rates.
There is no mortgage insurance or PMI to pay. And this is the only loan that allows you to refinance up to 100% of the value of your home, accessing all your available equity. However, with a concern of ever escalating property values, the VA has made several changes to policy regarding that last 10% of your home equity. In recent updates  from the VA concerning VA va cash out refinance guidelines 2019 , the VA prefers the loan amount not to exceed 90% of the appraised value.
Another huge advantage of the VA cash out refinance loan, is that it can be used, even if your current loan is not VA; your current loan can be FHA, conventional or any other type loan.  All of these other loans, can be consolidated and paid off.  This VA cash out loan will then eliminate any FHA mortgage insurance payments or conventional loan PMI payments, likely lowering your monthly payment even more for you. The guidelines do require that you have a current mortgage on the home.
If you are receiving disability payments from the VA, then it is very likely that you are exempt from paying the VA funding fee.  This can mean a substantial savings in closing costs and reduced payments!
Are There Any Disadvantages to a VA Cash Out Loan?
If you have substantial home equity AND you are not receiving VA disability payments (and therefore not exempt from the Funding Fee, then you'll want to compare conventional cash out options against the cash out refinance VA loan.  In this case, your rates for the VA cash out refinance may be lower than conventional, but the VA funding fee will likely offset that advantage.
The Navy Blue Water Bill that was passed in 2019 increased the VA Funding Fee to 3.6%, which can be a significant sum of money, although it can be financed into the new loan amount.
VA Cash Out Refinance Guidelines
The current VA guidelines are similar to those required for a typical VA purchase process.  You need to show your Certificate of Eligibility (COE,), to your chosen lender, as proof you qualify for the VA loan.  You must also certify you will occupy the home being refinanced with the new loan.  Lenders will generally require W-2 forms for the previous two years and copies of paycheck stubs for the most recent 30-day period. And finally, a VA appraisal to assess the value of your home, must be completed by a VA approved licensed appraiser.
The VA loan rate on your new VA cash out refinance loan will likely be the lowest in the market place.
It is a fantastic option to pay off all those old, higher interest loans, generate needed cash and perhaps end up with a lower interest and even a lower payment that you have currently.
Contact a Sr. VA Loan Technician at socalvahomes.org today.  Call 949-268-7742 to get straight answers on this VA loan!
As Seen on ABC 10 5:00 O'Clock News