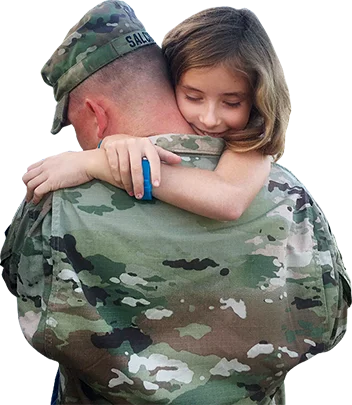 Discover The Seller's Choice:
Don't Sell Your Home to Just Anyone, Sell it to A Veteran.
Wouldn't you prefer to sell your home to a Veteran, Service Member or first responder, if they met your terms & sales price? Nine times out of ten (and of course complying with the Fair Housing Act), of course you would, right?
We offer two (2) POWEFUL OPTIONS to sell your home, using the most unique "machinery" in the industry, designed to benefit active military, Veterans and first responders.
OPTION #1: What if we could MAKE YOU A CASH OFFER, ON BEHALF OF THE VETERAN home buyer and close 10 DAYS? THIS is what we DO. See our video reviews of the Dreamweaver Home Purchase Process, demonstrating powerful results! 
The CASH OFFER will state:
NO appraisal
NO Repair Requests
No Commissions
NO Closing Costs
NO hidden costs
It's very straight forward. The CASH, The Veteran's Angel's Fund, LLC was created specifically to add benefit to YOU and the VA home buyer.
OPTION #2: Our military Veteran "Dream Team" will list & sell your home. SoCal VA Homes is staffed with military Veteran, CA licensed real estate agents, who choose to work with PEOPLE WHO SERVE! Our Dream Team of Real Estate PROS will demonstrate that additional level of commitment that you would hope to expect from a Veteran! Expect it. We are results driven!
Either option could be right for you, call us now at 949-268-7742 to discuss the benefits of both. Or you can request the Seller's Choice Tool Kit from this page.
In your Seller's Choice Tool Kit, you will receive:
A Comparative Market Analysis - an in depth review of your home's assets that may influence the sales price.
List of references & more testimonials
A Net Sheet when appropriate & obvious (Net Cash Proceeds from Sale)
Copy of Seller's Disclosures (so you'll see what's necessary)
Copy of our Marketing Plan to sell your home
Copy of our Listing Agreement for review
An introduction to our military Veteran Dream Team of Agents
After submitting your contact info, on the next web page: a report on the Biggest Mistakes Sellers Make
Whatever your circumstances, at SoCal VA Homes, we've got the experienced military Veteran Team and the Unique & Powerful programs - all the right tools to help!
Not all sellers have the same circumstances. Does one of these situations describe your circumstances?
You have a VA loan on your current home, and you want the most efficient and effective way to sell your current home and use your VA to buy another home.
You have a VA loan on your current home and want to keep your current home, rent it as an investment property and buy another home using your VA loan.
You're relocating and just need to sell your home at the best, highest price.
You don't have a VA loan or VA benefits, but just want to sell your home quickly and with the least amount of hassle.
FAQs: Here are common questions that are frequently asked. Please call us today at 949-268-7742 to discuss your specific situation.
Should I sell my home, or should I find a renter and become a landlord?

If I keep it, can I still use my current VA entitlement to buy, or do I need to refinance my current VA loan to a conventional loan to "free up" (restore) my entitlement?

Who's going to help screen my new tenant?  

Who will help me sell my home?

Do I sell my home first, or do I find my new ideal home first? (A VERY important question)

Is my new payment going to be affordable? What are VA rates today?

Should I use the equity in my current home as a down payment in my new home?
Your transaction may have more "moving parts" than a Veteran that is currently renting and is ready to buy a home.  Call us at 949-268-7742 and speak with one our Client Service Specialists about your specific situation.
Should you sell your current home first or to buy your new home first?  We've done both and discuss some of our thoughts and strategies. 
To accomplish your move up and buy another home, a great place to begin is getting your edition of The Plan to Buy a Home. Even if you've purchased a dozen homes before, this is a great way to get started.
Tips for Move Up Buyers
When using your VA benefit to move from your current home to your next home, special considerations must be taken into account.
Many agents suggest that you should "sell your home first," before going out and making offers on your next home, especially in a tight market. This can be SCARY! What if you don't find the right home after you sell yours? Do you have to rent? Do you have to move twice?
Avoid the VA Contingent offer as a Buyer
When you have NOT sold your current home, sellers who are receiving your offer to purchase on a new home, likely view your "Contingent VA Offer to Purchase" as the worst of all circumstances. Sellers and their real estate agents don't prefer VA offers over others. If this is a shock to you, please read the brief explanation of "How We are (Dramatically) Different" in the ABOUT section of this site. If you are a VA "Contingent" Offer, the odds of getting the offer accepted in the midst of any competing offers are near zero. In this circumstance, there are just so many roadblocks to achieving a successful sale from the seller's point of view. It's often too big a mountain to climb for you.
If you are fortunate enough to get a "Contingent VA Offer to Purchase" accepted by a home seller… (This is an offer where your seller agrees that you must sell YOUR home to buy THIERS), then there are certainly going to be time frames attached which will require you sell your home by a certain date in the very near future. That puts potentially unnecessary pressure on you as a seller, weakening your negotiating position where you may be willing to do things such as lower your price to sell and accept making concessions. When given the reverse circumstances, you would NOT take those actions.
Be the "patient" seller.
You don't necessarily HAVE TO sell right away, so maintain the strongest negotiating position to maximize the terms of your sale.
Get Professional Help
At SoCal VA Homes, our experienced team is very familiar with your situation and desires.  Whether you've received PCS orders to move your family around the globe, you've been out of the military for decades, and you just want a bigger home across town, or if you just need to get our of town...we know how to achieve your goals, and we've done it done it before…just watch our client videos reviews. Call us now at 949-268-7742 to help you achieve your goals.
As Seen on ABC 10 5:00 O'Clock News