VA Loans with Bad Credit Scores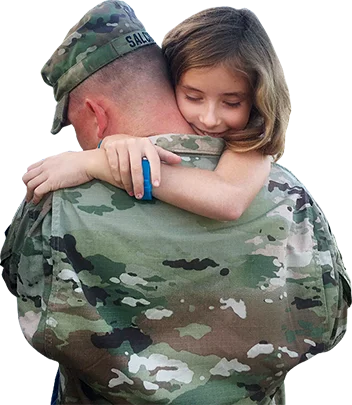 If you think you have a low credit score, you may be wondering if it's still possible to get a decent rate on a VA loan. Well, the good news is that there are certainly loans for Veterans with bad credit, as your VA loan options can still offer some of the most competitive rates on the market.
Thanks to the backing by the Department of Veteran Affairs, lenders like us have more security which means we can offer you lower rates. While your rate might be just slightly higher than someone with a better credit score, the VA home loan with bad credit or a low credit score is likely to offer you a higher chance for approval and a more competitive rate than most any other loan program.
What is a low credit score exactly?
According to Experian, one of the three main credit bureaus in the U.S., the FICO score system has a scale of 300 to 850. The model breaks down scores into different tiers as follows:
Poor credit: 300 to 579
Fair credit: 580 to 669
Good credit; 670 to 730
Very good: 740 to 799
Exceptional: 800 to 850
A very low credit score is definitely going to include any score under 580. However, scores under 620 may still be considered by some lenders. The good news is, the VA has not set a minimum credit score requirement for VA loans. That means access to the loans is available to a wider range of borrowers. However, each lender sets their own credit requirements so be sure to check with the lenders as you shop around.
At SoCal VA Homes, we consider each applicant's full situation on a case-by-case basis.
Where can I find the best rate for VA loans with bad credit or a low credit score?
The good news is that loans for Veterans with bad credit are very common.  It may be easier than you think to get a good rate on VA home loan with bad credit a low credit score.  You can find various VA loan rates advertised across the web as well as industry averages but your rate will depend on your unique circumstances. We recommend shopping around to find a reputable lender with a good track record of happy clients. Then, work with the lender to find the right loan and get prequalified.
The prequalification process involves submitting documents to verify your identity and show your full financial picture. It will involve a credit check, too. The lender will evaluate your information and determine how much you can borrow and what rate you will qualify for.
You can get prequalified with multiple lenders to compare offers and ensure you are getting a fair rate. Prequalification does not obligate you to go through with a particular lender. Once you have the rate you feel comfortable with, you can take your prequalification letter with you to shop for homes. You can also use it as proof of funds when you submit an offer.
At SoCal VA Homes, we have witnessed countless potential VA home buyers tell us, "Yeah, we're waiting right now, because we're working on our credit."  It is a common misconception for VA buyers to think that they don't qualify or will get a much better rate, when their credit scores improve.  This incorrect assumption prevents tons of VA buyers from home ownership, and this mistake is covered in more detail on Chapter 16, page 93 in Peter Van Brady's book.  If you are a Veteran and you think you have bad credit, don't make this common mistake of thinking that VA home loans with bad credit or low scores don't exist!  What you may think is bad credit is perfectly acceptable to a VA loan underwriter.
Getting prequalified is the best and only real way to find out what VA rates you qualify for–no matter your credit score.
Get prequalified today!
If you'd like to start the process and find out the VA loan rate you qualify for, call SoCal VA Homes at 949-268-7742 today! Our team of Senior VA Loan technicians will work through the process with you to achieve the best possible rate.
As Seen on ABC 10 5:00 O'Clock News