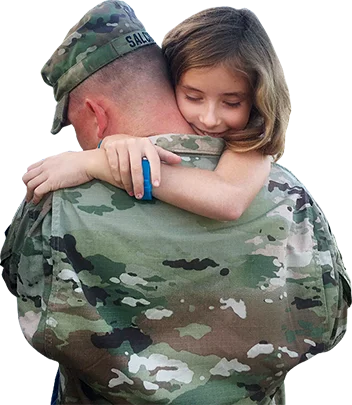 If your curious about what a VA loan with bad credit really is, and how we get them funded, watch this video:
If you think you have a low credit score, getting a VA loan with bad credit to buy a home CAN be done...don't worry! While it is sometimes difficult determining the actual difference between bad, poor, less than perfect and acceptable credit, the reality is, either is CAN be done or it can't. Loans For Veterans With Bad Credit still have decent rates The only way you'll actually find out if you can get approved is to APPLY NOW or call 949-268-7742 and speak to one of our military Veteran Sr. VA Loan Professionals.
Most lenders won't touch a VA loan with bad credit. Lenders will look at your credit profile and all your scores, typically from three different credit reporting agencies and the lenders who have an appetite for premium credit, generally identify the middle score and formulate an opinion of credit-worthiness from there.
VA loan lenders for bad credit, which commonly take on borrowers with lower credit scores, look at this sector of the market and these Veteran borrowers as challenge that MUST be met...to achieve home ownership for many Veterans!
Thanks to the backing by the Department of Veteran Affairs, lenders like us have more security which means we can offer you lower rates and better terms than conventional loans or FHA. While your rate might be just slightly higher than someone with a better credit score, the VA home loan with bad credit or a low credit score is likely to offer you a higher chance for approval and amore competitive rate than most any other loan program
Perfect scores are not required by the VA. It does not have a minimum credit score requirement or guideline, especially for first time buyers. Instead, if a home loan for a Veteran with bad credit is your goal, the VA only requires the prospective buyer be considered a satisfactory credit risk.
According to an article from Experian on fixing bad credit, one of the three main credit bureaus in the U.S., the FICO score system has a scale of 300 to 850.
Poor credit: 300 to 579
Fair credit: 580 to 659
Good credit: 660 to 719
Very good: 720 to 759
Exceptional: 760 +
Our experience has proven over and over again, that borrowers who have "poor credit" need coaching to improve their scores before buying a home. However, VA borrowers who have "fair credit," as measured above, typically CAN qualify, using one of two underwriting types: Automated and Manual Underwriting
Many lenders require a minimum FICO score of 620 to qualify to buy a home. But again, the VA does not set a minimum score and if the Veteran is applying for a VA loan with bad credit, they should still call a lender and explore their options. VA lenders which perform "manual underwriting" on their VA loans, might be more inclined to approve an application that demonstrates higher income, yet shows fair credit.
Each lender sets their own credit requirements so be sure to check with the lenders as you shop around.
At SoCal VA Homes, we consider each applicant's full situation on a case-by-case basis.
Does the credit score affect the VA loan interest rate?
The Veteran's credit score can affect the VA loan interest rate they may be offered. In general, a lower credit score will result in a higher rate being offered to the Veteran, while a higher credit score will often result in a lower interest rate being offered to the Veteran
The good news is that loans for Veterans with bad credit are very common.  It may be easier than you think to get a good rate on VA home loan with bad credit a low credit score.  You can find various VA loan rates advertised across the web as well as industry averages but your rate will depend on your unique circumstances. We recommend shopping around to find a reputable lender with a good track record of happy clients. Then, work with the lender to find the right loan and get prequalified.
The prequalification process involves submitting documents to verify your identity and show your full financial picture. It will involve a credit check, too. The lender will evaluate your information and determine how much you can borrow and what rate you will qualify for.
You can get prequalified with multiple lenders to compare offers and ensure you are getting a fair rate. Prequalification does not obligate you to go through with a particular lender. Once you have the rate you feel comfortable with, you can take your prequalification letter with you to shop for homes. You can also use it as proof of funds when you submit an offer.
At SoCal VA Homes, we have witnessed countless potential VA home buyers tell us, "Yeah, we're waiting right now, because we're working on our credit."  It is a common misconception for VA buyers to think that they don't qualify or will get a much better rate, when their credit scores improve.  This incorrect assumption prevents tons of VA buyers from home ownership, and this mistake is covered in more detail on Chapter 16, page 93 in Peter Van Brady's book.  If you are a Veteran and you think you have bad credit, don't make this common mistake of thinking that VA home loans with bad credit or low scores don't exist! What you may think is bad credit is perfectly acceptable to a VA loan underwriter.
Key underwriting criteria for VA loans from the Department of Veteran Affairs
There is no maximum debt ratio, however, if the total debt ratio is over 41%, the lender must show compensating factors. Also, the Veteran's residual income must show they can afford the loan and have funds left over for their debts and living expenses. There is no maximum on the loan amount and again, no minimum credit score requirement. Home loans for disabled Veterans with bad credit typically are exempt from the VA Funding Fee and therefore have a lower loan amount
Getting prequalified is the best and only real way to find out what VA rates you qualify for–no matter your credit score.
The good news is that loans for Veterans with bad credit are very common. It may be easier than you think to get a good rate on VA loan with bad creditor a low credit score. The first step is to get prequalified. If you'd like to start the process and find out the VA loan rate you qualify for, call SoCal VA Homes at 949-268-7742 today! Our team of Senior VA Loan technicians will work through the process with you to achieve the best possible rate.
As Seen on ABC 10 5:00 O'Clock News