VA Home Loan Credit Requirements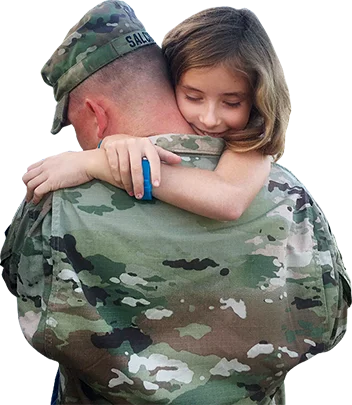 Guide to the Credit Factors Affecting VA Loan Qualification
VA Lenders will analyze a borrower's past credit performance when making a determination regarding an approval for a home loan. A borrower who has made payments on time for the last 12 months provides a guide and shows their willingness and ability to repay additional credit obligations in the future. On the other end of the spectrum, a borrower who has a record of continuously making slow payments or has judgments and delinquent accounts is not a good prospect for loan approval.
The VA doesn't require a predetermined credit score in order to be eligible to qualify to receive a VA loan. But the individual lenders that make these loans typically do. Call one of our VA loan specialists to find out more details about specific credit score requirements for securing a VA home loan.
There are several factors that can have an impact on your credit profile and affect your ability to qualify for a VA Home Loan.
Late Payments to Your Mortgage Company
In cases other than bankruptcy, acceptable credit is usually considered to be reestablished after the veteran, or veteran and spouse has made satisfactory payments for 12 months after the date following the last derogatory credit item(s). Some lenders may allow VA buyers to have one or more 30-day late payments. Policies will vary by lender.
When the underwriter analyzes a borrower's credit; it is the overall pattern of credit behavior that must be reviewed, rather than a few isolated cases of slow payments. An unusual period of financial difficulty does not disqualify the borrower if a good payment pattern has been maintained since then.
If account balances have been reduced to judgment by a court, those balances will have to either be paid in full or be under a repayment plan with a history of timely payments.
Lack of Credit History
In regards to credit, the lack of established credit history is not always a deterrent to loan approval. As accepted in the credit standards, satisfactory payment history on items such as rent, utilities, phone bills, etc., may be referenced to ascertain a satisfactory credit history.
Chapter 7 Bankruptcy
The VA guidelines state that at least two years must pass since the discharge date of the borrower and / or spouse's Chapter 7 bankruptcy, not the filing date. In addition, a complete explanation of the bankruptcy will be needed. The borrower must also have re-established good credit, qualify financially and have maintained stability on the job.
Chapter 13 Bankruptcy
The VA guidelines state that they will consider a borrower who continues to pay on a Chapter 13 Bankruptcy if the payments to the court have been satisfactorily made and verified for a period of one year. Additionally, the court trustee will be required to give written approval to move forward. A full explanation of the bankruptcy is necessary. The borrower must also have re-established good credit, qualify financially and have maintained stability on the job.
Collections, Judgements, and Federal Debts
Lenders may have a maximum allowable threshold for collection debt. Those caps can vary by lender and other factors. Judgments must be paid in full prior to closing. Borrowers who are delinquent on any federal debt may need to be on a repayment plan with a history of on-time payments.
Foreclosure
A borrower whose previous residence or other real property was foreclosed on or given a deed-in-lieu of foreclosure within the previous two years since the disposition date is generally not eligible for a VA insured mortgage. If the foreclosure was on a VA loan, the applicant may not have full entitlement available for the new loan. Some lenders will have no required waiting period following a short sale.
---
Call a Sr. VA Home Loan Technician at:
As Seen on ABC 10 5:00 O'Clock News