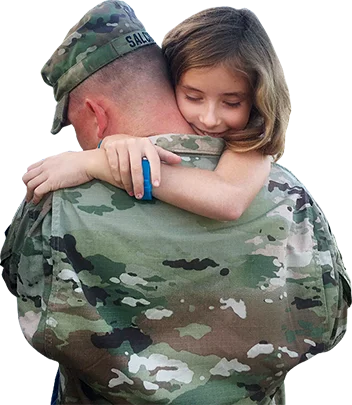 Looking for the current VA loan rates? We've got you covered. You can expect the interest rates on VA loans to be some of the best on the market. Thanks to the backing from the Department of Veterans Affairs (VA), VA loans reduce the risk for lenders, which means you get to pay less. But just how low are the current mortgage rates on a VA loan right now and what do they mean for you? Here is a current VA loan rate along with tons of other helpful info you should know about mortgage rates.
THERE ARE "UNDERWRITING ASSUMTIONS" WITH ANY PUBLISHED, CURRENT VA LOAN RATES. UNDERSTANDING THE FOLLOWING WILL BETTER INFORM YOU!
Current VA loan interest rate today:
VA 30 Year Fixed Rate as of this update is:

6.250

%
 A.P.R.

6.465

%
Lower rates are available (with more points) Continue reading and see assumptions below.
Or, as an alternate example, we offer a great education on how we are able to offer an entire menu of 30-YR Fixed Rate options and how we offer no closing cost loans.
Due to the fact that so many factors play into a mortgage rate, we made the following assumptions to calculate the rate above:
Term: 30 years (15-year terms are also available)
Interest rate: Fixed (adjustable rates are also available)
Occupancy: Owner-occupied (all VA purchase loans must be owner-occupied but some VA refinance loans allow non-owner-occupied status).
Discount Points: 1.00 (Again, we also offer lower rates with more points AND no closing cost loans).
Credit Score: 720 (although we make VA loans to credit scores as low as 550).
Loan Amount: Less than or equal to $647,200. (VA Jumbo Rates up to 2.5MM+ are also available).
Down Payment: Zero
Call 949-268-7742 for a quote. Ask us about our whole menu of rate choices today.
If you ask one of our Sr. VA Loan Professionals, "What is your current VA loan interest rate today?"
You will receive an answer that sounds like this, "That's a good question. Many lenders will not educate their clients that there exists an entire spectrum of fixed rates available on any one day. We like to present to you the whole menu of interest rate options and their associated costs, so you can determine which rate choice is right for you. Our lowest rate today is…"
When given a choice at the time of loan application, very few borrowers will choose the lowest rate because it requires Discount Points, and THAT can get really expensive, very quickly!
As you can see, many factors are taken into consideration when calculating the current VA loan rates you can get. Your rate will depend on an evaluation of your credit score and credit history, the loan amount, the loan purpose, the term length, discount points, and more.
Why the 30-year fixed VA home loan?
The 30-year fixed VA loan is our most popular VA loan product. In comparison to the 15-year fixed VA loan, it enables a longer repayment period which means lower monthly payments.
Further, the fixed interest rate means that your payments will remain the same throughout your entire term. Variable interest rates, on the other hand, fluctuate with the market which can mean your payment goes up and down. Typically, variable rates start lower than fixed rates but end up higher over time.
In most cases, the 30-year fixed mortgage VA loan provides the perfect mix of affordability and predictability. However, we can help you with a wide variety of VA loan options including:
You can contact us to find out more about all your options and the current VA home loan interest rates for each option.
How do discount points impact your VA loan current rates?
Discount points involve paying a percentage of your loan amount upfront to lower your interest rate. Often, one point costs 1% of the loan amount and drops your interest rate by 0.25%. So if you have a $300,000 loan and a 4% APR, one point would cost you $3,000 upfront and would lower your interest rate to 3.75% APR.
Discount points will need to be paid at closing along with the closing costs and funding fee (if paid upfront) so can get expensive. However, if you're interested, you can get the LOWEST possible rate by buying two discount points and a one-point origination fee.
Not sure if it's a good idea?
You can figure out if discount points are worth it for you by calculating how much the APR reduction will save you per month, and how many months it will take you to reach your break-even point. For example, if you pay $3,000 for one point and it saves you $50 per month, it would take you five years (60 months) to break even and start saving on your mortgage. If you plan to keep your mortgage long beyond your break-even point and have the money upfront, buying points can make sense.
However, having worked exclusively with active military and Veterans since 2008, we have discovered that our borrowers either move or take cash out or have an opportunity to lower their rate. Very few keep their original purchase loan for 5-7 years or longer - just an observation!
Why do the current VA home loan rates fluctuate?
Beyond the personal factors that impact a borrower's VA mortgage rates, the current rates also depend on the market.
All mortgage rates, including those for VA loans, will fluctuate as a result of inflation, the rate of economic growth, housing market conditions, the bond market, and the Federal Reserve monetary policy. You may see them change weekly, daily, and even hourly.
If you have questions about which direction the market is going and the best time to buy, reach out to our team today.
Who can get the current VA loan interest rates?
To get the current VA loans rates from VA lenders like us, you have to meet the VA's borrower eligibility requirements, which include:
Borrowers must be active duty service members, veterans, or qualifying surviving family members.
You must meet the service time requirements.
You can't have received a dishonorable discharge (although some exceptions are made).
The next step is to request a certificate of eligibility from the VA. Once approved, we can help you take advantage of the current VA mortgage rates!
Why are our current VA loan rates so competitive?
You may have noticed that our VA loan rates are a bit lower than national competitors like Veterans United and Navy Federal Credit Union. The reason for that is we are a much smaller operation with less overhead. We have fewer costs to cover which means we can offer you some of the best VA rates on the market.
Additionally, we partner with national and regional underwriting platforms that provide us with wholesale rates. We pass on those savings to our borrowers, helping you find the best rate possible.
So what is the current VA home loan rate you can get today?
Get a specific quote for your situation. Call one of our Sr. VA Loan Professionals now at 949-268-7742.
Published VA Rates, discount points and terms are based on an evaluation of each applicant's credit history, loan amount and loan purpose, so your rate and terms may differ. All loans are subject to credit approval.
As Seen on ABC 10 5:00 O'Clock News