VA IRRRL - VA Streamline Refinance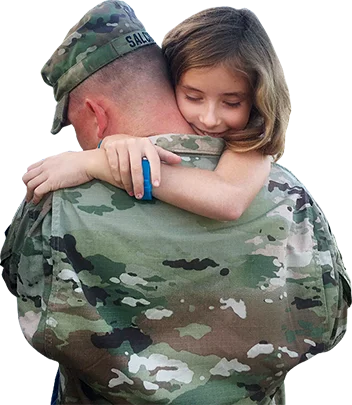 The VA IRRRL is also known as a VA Streamline Refinance. A VA IRRRL (often pronounced "Earl") stands for Interest Rate Reduction Refinance Loan. This VA loan will replace your current VA home loan with superior terms.
There are two types of VA refinance loans, the VA cash out refinance, and the VA IRRRL.
It is like no other home loan - a one of a kind VA loan that will give the Veteran homeowner the option to lower their interest rate and monthly payment or easily change from an adjustable rate to a fixed rate or do both.  How?
The VA IRRRL is designed as a powerful refinance option for Veteran homeowners because the guidelines do not require income, assets or appraisal qualifications to fund the loan. Although there are some exceptions to the appraisal requirement which are triggered by higher fees, this is the "Go-To" loan for Veterans to reduce their rate & payments. That's why it's called a VA Streamline Refinance! The whole process is simplified and made easier for the Veteran homeowner and lender.
What are the VA IRRRL Guidelines for 2020?
The VA publishes new IRRRL guidelines when necessary. Recently there have been very important updates for lenders. On May 25, 2018 the Department of Veterans Affairs released its most sweeping updates for new VA IRRRL guidelines.
Veterans applying for A VA streamline refinance, generally need to check these boxes:
You must currently have a VA loan on your home
You must apply for your new loan using the same borrowers as you did on your current loan
You must have not have been more than 30 days late one time in the last twelve months
Fee Recoupment
Guidelines require that the Veteran to get their investment in closing cost back in a certain period of time. This is known as the Fee Recoupment period.
This is calculated by dividing the new monthly savings into the closing costs.  Closing costs included in the fee recoupment were recently changed to allow even more Veterans to qualify for a VA IRRRL. On August 8, 2019, enhanced VA IRRRL guidelines were published by Department of Veterans Affairs which  excluded the escrow fee and the VA Funding Fee from the calculation. This was huge!
The remaining fees which are still included in the calculation must be recouped in 36 months or less. If not, the loan will nor pass the net benefit test, and it will not get loan approval.
Net Tangible Benefits
The lender will provide a Net Tangible Benefit test which will tell the lender if the Veteran borrower will be benefiting enough from the refinance. In the processing documents, the lender must provide the Veteran (and the VA) with a VA Loan Comparison statement showing how the current loan and the new loan compare to each other and how the Veteran will recoup their fees within that 36-month time frame.
If the borrower is going from one fixed interest rate to another, the difference in the rate must be half a percent (.50%) or more. If you are going from a fixed rate to an adjustable rate, the difference between rates must be two percent (2.00%) or more.
If the Veteran is paying discount points, further VA IRRRL guidelines apply:
For discount point amounts that are less than or equal to one percent of the base loan amount, the resulting loan-to-value most been no more that 100%.  An appraisal is necessary to the proves that the new base loan amount does not exceed the property value.
For discount point amounts that are greater than one percent of the base loan amount, again, an appraisal is necessary to proves that the new base loan amount does not exceed 90% the property value.
Very few Veterans choose the closing costs that buy the rate down to that level which triggers the appraisal requirement. If and when that happens, the guidelines only require AN appraisal, not a VA appraisal.
Loan Seasoning
All VA-guaranteed loans must be seasoned prior to considering a refinance. This typically means the original loan needs to be serviced, receiving payments for a certain amount of time before it can be refinanced with a VA IRRRL.  The amount of time the current loan needs to "season" is 210 days from the first payment date as stated on the NOTE or six payments, whichever is longer. In general, just count 210 days from your first payment, and that's when the new loan documents can be dated to close.  As this date almost always bumps up against the end of the month, usually you'll be closing in the following month.
Here Are the Pros and Cons of a VA Streamline Refinance
Pros
Lower VA IRRL rates and payments: Most borrowers apply for A VA Streamline refinance simply to lower their mortgage payments. Others use a VA IRRRL to make their mortgage payment interest rate permanent, meaning the interest rate goes from adjustable (changes over time) to a fixed interest rate (same rate over the life of the loan).
Simplicity of the loan process: Because guidelines don't require income, assets and in nearly all cases an appraisal, compared to your original purchase, the processing of this loan is extremely simplified.
Escrow impound account refund: Depending on your impound account balance, this can be a significant check written straight to you by your lender getting paid off.
Bypass two monthly payments: This can be achieved on just about any refinance. Veterans tend to love this benefit. Because mortgage interest is paid in arrears (backwards), holding the payment back in your checking account in the month that you close allows you to bypass two months of mortgage payments.
Cons
The only disadvantage to a streamline refinance is when you sell or refinance too soon and don't break even on your investment made to refinance.
One more benefit of the VA IRRRL is the occupancy rule. The VA requires the Veteran borrower to intend to occupy the home as a primary residence when purchasing the home or using their VA benefit to take cash out.  However, with a VA IRRRL, you can refinance an owner-occupied home, a second home or investment property.  The VA IRRRL rates offered for this option tend to be slightly higher.
VA IRRRL rates for an owner-occupied refinance can often be the lowest rates in the industry. If you have great credit, you'll be rewarded with low offers from tons of lenders. However, at SoCal VA Homes, we recommend that you only consider loan offers from VA lenders the specialize in VA loans. Other lenders with less experience can and do make errors and may be more concerned with simply closing their transactions vs. pleasing Veteran clients.
VA IRRRL guidelines for our loan application
Your lender will request certain information and documentation from you so they can proceed with the new loan.   These items usually include:
A mortgage statement
The NOTE from your current loan
Drivers Licenses
Home owner's insurance info
Solar systems are very popular these days, and these liens must be subordinated. Prepare to provide that info as well.
At SoCal VA Homes, our military Veteran team of Sr. VA Loan Professionals who specialize in VA loans are ready to guide you through the process quickly and easily. Call SoCal VA Homes today at 949-268-7742 to start a conversation and get a quote on VA IRRRL rates today.
As Seen on ABC 10 5:00 O'Clock News