VA IRRRL - Streamline Rates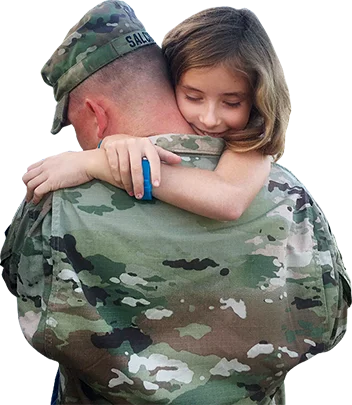 Do you have a VA loan but wonder if you may be able to qualify for a lower interest rate?  Or maybe you opted for an ARM initially but now want to switch to a fixed rate. The good news is, the VA IRRRL rates for the Streamline Refinance program can achieve much lower payments. The program provides a relatively easy way to refinance your loan to more affordable payments.
What is the VA IRRRL?
First, the IRRRL (aka the VA Streamline Refinance) stands for Interest Rate Reduction Refinance Loan and it is a loan product that is backed by the Department of Veteran's Affairs. The purpose of the IRRRL is to help Veterans to lower their monthly payments or help to make their payments more stable.
Upon approval, it works by replacing your current VA loan with a new one with a lower fixed interest rate. The process is very streamlined, eliminating most appraisal, income and asset requirements, because you are just switching from one VA loan type to another. However, for those that are not exempt, there will be a 0.5% funding fee charged, albeit, a lower one than you will pay on a new VA loan or a VA cash-out refinance.
What are VA IRRRL Rates?
The loan rates for an IRRRL are competitive like all VA loans, thanks to the VA loan guaranty. And depending on the lender's overall loan servicing strategy, the VA IRRRL rates can be lower than a VA purchase or cash-out refinance.  These potentially lower rates are offered because the IRRRL loans pose just slightly less risk as your new lower payments are not likely to be delinquent, given that your current higher rate loan has been paid on time.
Some lenders who maintain huge loan servicing portfolios desire to dramatically grow these portfolios in times of large refinance volume, so they get aggressive with their lower rate offers.  These lenders sacrifice some upfront origination income for the long-term value of the loan servicing income. Loan servicing income is a completely separate and valuable element of the newly created loan.  It can be worth about thirty cents of every one hundred dollars of payments collected.
Because SoCal VA Homes delivers our loans to multiple sources which offer us rates on a wholesale basis, we can help you take advantage of the lower rate loans offered through these types of companies.  You can find out your exact VA IRRRL rate by contacting us today.
Do I qualify for a VA IRRRL?
On May 25, 2018, the VA made some important policy guidance updates to protect Veterans applying for lower VA streamline refinance rates. To qualify for a VA IRRRL, you will have to meet the following qualifications:
Currently have a VA loan
Reduce your interest rate by at least ½ of a percent
Recoup your closing costs in less than 36 months
Wait at least 210 days from your fist payment on your current VA loan
Is an IRRRL a good idea?
IRRRLs can help Veterans to save money on their VA loans but it's important to consider the closing costs. Find out what your closing costs will be and ensure they justify the savings you'll achieve.  The three economic benefits of getting a lower VA streamline refinance rate and mortgage payment, getting a refund of your current escrow account and potentially by-passing two payments should all be considered together in your evaluation. Our VA loan experts at SoCal VA Homes can help you to figure out your costs and savings.
Get your new lower VA IRRRL rate today!
Are you interested in finding out if todays VA streamline refinance rates might be able to help your situation? Our Senior VA Loan Technicians are standing by ready to answer any question you may have. Find out how IRRRLs work, if you qualify, and how much you can save.  Call 949-268-7742 today.
As Seen on ABC 10 5:00 O'Clock News