Pre-Qualification vs. Pre-Approval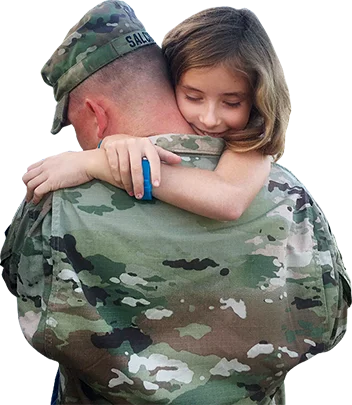 You may have heard about how important a loan pre-approval is when it comes to preparing for your home buying journey, before finally securing a home loan and then closing. This is true for Veterans as much as anybody as pre-approval is how you determine your precise buying power and eliminate any uncertainties.
The term "pre-qualification" is also often heard on the homebuying journey. These two terms sound similar, so some borrowers are surprised to find that there's a difference between pre-qualified and pre-approved. In fact, pre-qualification comes first.
See: Steps to Get Pre-Approved for a VA Loan
Pre-Qualified vs. Pre-Approved
When a Veteran gets pre-qualified for a home loan, they're provided with an estimate of the loan size they would be able to get. These estimates are given based on basic information the Veteran provides. Since this number is just an estimate and not a commitment, the lender does not verify the information provided or require a credit check.
Think of pre-qualification as the first step in the homebuying process. Once you get a general sense of your buying power, you can move toward securing financing. This means getting pre-approved for a home loan.
Check out Investopedia's guide to pre-qualification vs. pre-approval.
VA Loan Pre-Approval
Pre-approval acts as a conditional commitment from a lender. Once you're pre-approved, you're ready to buy, as long as the property meets the lender's conditions. Unlike a pre-qualification, a pre-approval is determined from the lender's review of the actual borrower's documentation, not just relying upon the information often only discussed on the phone between the borrower and the lender.
To be pre-approved for a VA home loan, you'll need to complete a home loan application with a VA loan professional, as well as show that you can satisfy both the VA's and the lender's requirements. This means securing your Certificate of Eligibility, which your lender can help with) and meeting debt-to-income (DTI) ratio requirements. Your lender will also pull a tri-merge credit report to include thorough credit history and scores from all three credit bureaus.
With all of your income, asset, credit scores and credit history at hand, a VA approved lender can underwrite your VA loan for a pre-approval. Typically, this is achieved through an automated underwriting system, known as an AUS. The AUS software most commonly used is known as Desktop Underwriter. A skilled VA loan professional is intimately familiar with this software, and generally, pre-approvals are issued as a result of a successful process within this system.
However, other criteria need to be met such as residual income calculations. The highest level of VA loan pre-approval is achieved when an actual human underwriter has reviewed the AUS results and matched the findings with all of the borrower's documentation.
Once an acceptable level of pre-approval has been met, the lender issues a pre-approval letter, which includes the maximum loan amount that the buyer is approved for. With a pre-approval letter in hand, you can find the home that meets your needs and put in an offer you can be confident in.
At SoCal VA Homes, we take the process of pre-approval very seriously and issue a letter, known as a Client Relationship Letter. This is tactical advantage #2 in our Veteran's Angel Program.
Pre-Approval vs. Pre-Qualification Chart
The following chart will break down the differences between pre-qualification and pre-approval while answering some frequently asked questions about the VA home loan process:
| | | |
| --- | --- | --- |
|  FAQ: | Pre-Approval | Pre-Qualification |
| Do I need a credit check? | Yes | No |
| Is there an application fee? | Ask your lender | No |
| Can I find out what my interest rate will be? | Yes |  Yes |
| Do I need to supply income & banking information? | Yes | No |
Still not an expert on pre-qualification vs. pre-approval? No worries – both pre-qualification and pre-approval are steps that your lender can easily walk you through. Once you have your pre-approval letter, you'll be ready to make an offer.
At SoCal VA Homes, we're committed to getting that offer accepted. That's why we go above and beyond to make your offers attractive and make the process easier and deliver better results with our unique and powerful programs.
Speak with one of our VA home loan experts. Call 949-829-5674 today!
As Seen on ABC 10 5:00 O'Clock News