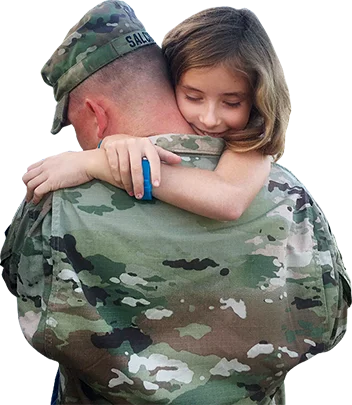 Guide to VA Home Loan Qualification
Military servicemembers and veterans on the path to homeownership in California may qualify for a VA home loan if their debt-to-income ratio (DTI) conforms to VA and lender standards. The debt-to-income ratio is a significant element of your financial history. But it's only one of a handful of qualifications VA home loan lenders in California check when considering your application.
What is your debt-to-income ratio?
Quite simply, a borrower's DTI ratio calculates the borrower's monthly debt versus his or her gross monthly income. It's anticipated and ordinary to have some level of debt. Unlike with other kinds of mortgages, to VA home loan lenders, only one type of DTI ratio is important. This ratio includes your monthly debts such as housing costs, recurring debts, and other outstanding payments.
As noted, conventional, FHA and USDA home loan lenders use two DTI ratios for borrowers. One only considers expenses for housing. This is typically called the front-end ratio. The other ratio includes your total of all main monthly debts and is referred to as your back-end ratio. The VA pays no attention to the front-end ratio and only considers the borrowers' back-end DTI ratios.
What's a reasonable DTI ratio?
The VA's standard is 41 percent, but VA home loan lenders are not forced to that standard. VA home loan borrowers may find different DTI ratio standards with different lenders. DTI ratios are a reliable gauge of financial stability, so lenders aren't eager on underwriting loans to borrowers with a significant and potentially overwhelming level of debt. But don't worry if your DTI doesn't fall below the 41 percent threshold. A higher DTI will not automatically disqualify you for a VA home loan in Nevada, although it will require you to have additional residual income, which is another one of the VA requirements. Other components of your financial history may influence the lenders' final decision. That's why it's important to also watch and maintain a good credit score.
So if my DTI ratio is higher than 41% can I still qualify for a VA loan?
Yes, it's possible. Since VA home loan lenders consider your DTI ratio plus your credit history and credit score, your income history and other factors too. They don't just look at your DTI ratio alone. They'll make a decision based on your overall financial situation.
Another option for borrowers with a high DTI is to consider lowering your potential VA home loan amount. Our VA Loan specialists can offer suggestions to help adjust your DTI ratio to a reasonable level.
Start by taking control of your DTI ratio through debt management and smart spending and talk to one of our VA home loan specialists to walk you through the process.
---
Call a Sr. VA Home Loan Technician at:
As Seen on ABC 10 5:00 O'Clock News