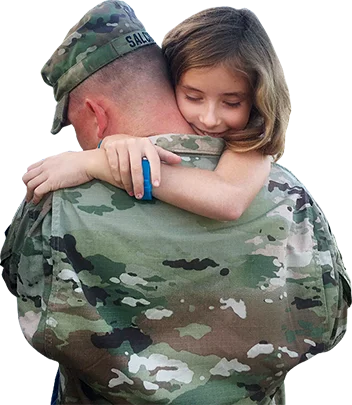 Frequently Asked Questions About
The VA Home Loan Process
What if I don't need a fully custom renovated home?
What if I find a home that is perfect and exactly what I'm looking for?
In this circumstance, again we play the real estate game very differently – and we play to WIN. On your behalf, we deploy our Stealth Strategy…The So Cal VA Homes Secret Weapon! Our VETERAN'S ANGEL PROGRAM. This special new program has helped many of our clients get their offers accepted and it can help you get an accepted offer too.
Our VETERAN'S ANGEL PROGRAM is not available anywhere else and is simply UNHEARD OF in the real estate business... because WE developed it. It is so unusual… so POTENT and so devastating to your market competition… that when you fully comprehend its operation and its IMPACT,
you won't make another offer without it.That's why we don't publish all the details on our site. Call us for more details at (949) 268-7742 or click the button below.
How do you do all this? Where does the loan or financing come from to complete the transaction?
Does So Cal VA Homes make the loan?
So Cal VA Homes combines three separate companies to offer a revolutionary home buying experience. Our real estate investment company, SARTRE, LLC pays cash to purchase the home. So Cal VA Homes employees and contractors design and facilitate the renovations. Then our VA recognized mortgage company, One Touch Lending provides the financing to complete the transaction.
How does So Cal VA Homes make money on these homes?
We often get this question. Because we provide three separate and distinct set of resources to serve our client's goals, we often earn income in these three ways. We may get paid a real estate commission when we purchase a home for renovation and later sale. SARTRE will earn income if we sell the home to you at a small profit. Lastly, One Touch Lending Earns income when we successfully finance your new home.
Who gets to use these VA Benefits and who is eligible for VA Financing?
If you have served, or are serving in the Army, Navy, Marines, Coast Guard or Air force for 90 – 180 days, you are very likely eligible. Additionally, if you are currently National Guard an active Reserve member, you qualify. To obtain a Certificate which documents your eligibility, you must have been discharged under conditions other than dishonorable.
Surviving spouses in many circumstances qualify as well.
Additionally, members of N.O.A.A., merchant seaman and some other service organizations qualify.
How do I know that I'm getting a good final price on the home and that I'm not paying too much for the property?
How do I really know what the home is worth?
We can't sell you the home for a price more than the value established by an independent VA approved appraiser, who appraises every transaction. The Government protects all VA buyers in this manner, so you don't pay too much for a home. So the final purchase price and therefore the value we add to the home is confirmed by an independent VA approved appraiser.
When the appraisal is completed, the lender reviews the appraisal and sends you a "Notice of Value" – a second opinion often demonstrating instant home equity that you receive in your new home! Watch the video of the Dudera transaction in Imperial Beach. We sold them the home for $330,000 and the Notice of Value was established at $350,000. They got $20,000 in EQUITY and a $5,000, 80" Sharp flat screen TV on the wall! (not to mention ALL new stainless steel appliances).
That transaction was so fun!
What is the VA Funding Fee?
The VA Funding Fee is a one-time fee paid to the Department of Veterans Affairs. It is paid from the lender to the VA when the loan closes. It funds the VA loan program by essentially providing an "insurance policy" to the lender, protecting them from losses. The fee varies depending on type of service, loan amount, down payment and subsequent VA Loan usage. Clients typically add this fee onto their "base" loan amount. The program provides for exemptions, waiving the fee for Veterans entitled to VA compensation for a service-connected disability and surviving spouses of Veterans who died in service or as a result of a service-connected disability.
Are interest rates competitive with VA Loans compared to FHA and conventional loans?
Yes. Interest rates for VA Loans – The zero down purchase option – are often slightly better than their FHA and FNMA alternatives.
What's the purchase price limit when using my VA benefit?
Your VA Benefits limit your purchase loan size depending on your county. If you are not currently receiving disability payments from the VA, a "Funding Fee" is included in the loan amount. If you have been awarded disability, you are exempt from this fee.
Inclusive of this fee to the VA, loan limits in 2017 are as high as $636,150 in parts of California. We perform financing throughout the state, but in the 5 Southern California counties where we typically remodel homes for our men and women, the 2017 limits are as follows:
LA County - $636,150
Orange County CA = $636,150
Riverside County = $424,100
San Bernardino County = $424,100
San Diego County = $612,950
The VA updates their loan limits each year based on the average cost of housing across each county.
What if we're working with a Realtor already?
We are excited to cooperate with Realtors who refer us clients and do some of the initial house hunting. If you don't have a Realtor then of course we expect to provide that component of "shopping" for your home. As a turn-key, full service operation, our acquisition team will help you get the house you want using one of our agents.
Do you have any programs that are special for Service Members with disability?
The VA offers specially adaptive housing grants for certain disabilities. With these grants you get free money to complete certain approved renovations. Your VA Funding Fee is waived if you are receiving disability from the VA. We will combine the housing grant with financing to achieve maximum results for a comfortable home that meets your special needs.
Do you work with Non VA Buyers?
Yes. Although we prefer working with our country's service men and women we can help FHA,
Conventional, and Jumbo buyers as well.
What is a Certificate of Eligibility (COE) and how do I get one?
As Seen on ABC 10 5:00 O'Clock News