Epilogue: Can You Help Us?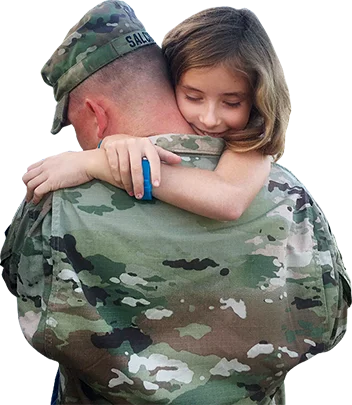 Faced with an infinite uphill battle, So Cal VA Homes maintains an intense commitment to expand and find creative ways to serve those who served us.
The business model of choosing to exclusively serve active military and Veterans is a very dangerous decision. We have made an active choice that, from the viewpoint of an outsider, may look like business suicide! But we discovered a cause… more than a worthy mission… we want to "right a wrong."
The MOST DESERVING homebuyers in the marketplace are those who serve… YOU. YOU WERE THE MOST UNDERSERVED, the most snubbed, the most rejected by the real estate marketplace when using your VA home loan benefit, attempting to accomplish your goals and achieve your dreams. And it isn't your fault! It is simple economics, market supply and demand in action… and it was tragic in my view.
With all of our programs, our goal is to eliminate the disadvantages Veterans face when buying homes. To gain a competitive advantage for our clients over and above the "average VA deal," we created our proprietary suite of programs which marry your VA loan with serious extra horsepower, so you can get the home you want, the home you deserve. When we entered into this market with new and innovative ideas, we were purely motivated to simply correct "the wrong," dissolve this disadvantage, and turn the tables.
Defying "smart" business decisions, we choose to work with you, a collective group primarily made up of first time homebuyers who typically buy entry level homes in the lower price ranges of Southern California neighborhoods and therefore generate the lowest relative income per transaction. Pure economics would suggest that this provides our company with the least opportunity for economic success, stacking the odds against us. We choose to serve you, in general a clientele that typically has a lower range of credit qualifications making it more challenging for our clients to qualify to buy a home. We choose to embrace you, a group that the housing market perceives as the riskiest buyers, most likely to take the longest to close or ultimately fall out of escrow and cancel! When utilizing our Veteran's Angel Program, our job is to convince the listing agent and seller otherwise!
Motivated home buyers using their VA home loan benefit to purchase are a tiny percentage of the overall buyers in the market. That makes YOU pretty hard to find! Finding you is a lot like looking for a needle in a haystack! I know this through lots of trial and error! In the last five years, I've tried every possible means you might imagine to reach out to you. From our original So Cal VA Homes van (used for our client's Dreamweaver projects) to bus ads, to church bulletins, direct mail targeted to Camp Pendleton, to realtors (who didn't want to work with Veterans), to real estate magazines, to KFI radio ads (Oooh, that was expensive!), to Facebook, Google, Twitter, to actually soliciting doctors' offices who took TRICARE (so they could pass out flyers). Yes, we've tried it all, and you are hard to find!
And to do all the things that we do on our Dreamweaver Home Purchase ProcessTM is very, very difficult. Frankly, I find all this… ALL OF IT… to be the most extraordinary and exciting challenge – the largest I've ever faced in my life. I pray every day that I have the strength, stamina and endurance, the courage and creativity to see it through – to do the greatest good for the maximum number of Veterans and active military families. We can't help everyone, but we are very committed to help you.
To accomplish our goals, to help large numbers of Veterans and active military families in local Southern California communities purchase the right homes, we will need lots of help. To expand, we will need lots of licensed field agents. Our Property Acquisition Specialists, on the ground looking at homes, are the hardest working people and the most integral players to achieving success for our clients. Please help us by referring potential candidates for field agents!
Again, finding qualified, motivated buyers wanting to use their VA loan to buy a home is not easy. It's very difficult. We need your help! Please refer your friends, family, superiors, subordinates and other Veterans to us, so we can help them achieve their home buying goals! Ask us about any promotions and referral programs we may currently have!
We see our relationship with our clients as a partnership. We don't view ourselves and our company simply as service providers. We are much, MUCH more than that! With all of our proprietary programs, we take far more business risk and direct, financial risk for you than anyone or any other company that we are aware of. And we need your help and support. Please get the word out, and please go to our website to subscribe to my AH!HA! INFO – ENTERTAINMENT letter. This is a six-times a year company communication. It's additional education, and it's very entertaining!
Thank you so much for your belief and support.
Respectfully,
Peter Van Brady
As Seen on ABC 10 5:00 O'Clock News