Credit Unions do VA Loans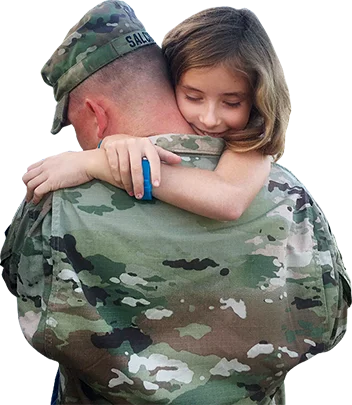 Yes. Many credit unions do VA loans!
As active military and Veterans join credit unions in increasing numbers, they are asking, "Do credit unions do VA loans?" With credit union membership reaching a record high of over 104 million memberships nationwide, more and more Veterans are analyzing the benefits of a credit union for their family.
Inquiring with their credit union to do a VA loan seems obvious, but here we'll examine just how well these institutions are responding to their Veteran membership.
What are the benefits of a credit union?
Credit unions are similar to traditional banks by providing their customers with checking and savings accounts, mortgage and home equity loans, personal and auto loans and CD and money market accounts.
Because they are a not-for-profit company, credit union members are spared many of the fees and hassles customers often face with big banks.  Additionally, credit unions are often perceived as more "customer friendly" than banks because they pride themselves as a business model that emphasizes
people over profits.
But is this the case when a credit union attempts to do a VA loan?
VA loans were created by the Department of Veteran Affairs in 1944 to assist Veterans in buying their homes.  Today, thanks to this loan program, 79% of US Veterans own their houses compared with 63% of the civilian population. And because more Veterans are joining credit unions, they are asking their credit union to help with their VA benefit.
There are four excellent reasons why credit unions are an ideal place for Veterans to begin looking for help, as they consider buying homes and getting financing.
1) Credit unions are not-for-profit organizations and therefore, any profit made must be returned to its members in the form of dividends, reduced fees and lower loan rates.  These lower loan rates and reduced fees could especially affect VA loan payments for Veterans.
2) When it comes to loans, many reputable sources report interest rates are lower at credit unions because they reinvest profits back into their programs that often results in excellent interest rates for the members.
3) Credit union members often pay less for monthly service fees, often are not charged ATM fees and many other add-on costs charged by banks, resulting in substantial saving for the Veteran family.
4) Because credit unions are usually smaller and local, they have a well-deserved reputation for being extra friendly, personable and professional.
Is your credit union committed to serving Veterans?
In our quest to expand our services, we discovered that some credit unions do VA loans and many do not. It appears that the "giants" like Navy Federal have the bandwidth to successfully establish mortgage operations that include VA loan products. But other smaller credit unions just don't have the critical mass to provide these products to a small percentage of their total membership - Veterans!
In summary, as more active military and Veterans turn to their VA loan benefit to finance their home, they are reaching out to their credit union for help.
Bottom line, Veterans in Southern California are blessed with many excellent credit unions that offer VA home loan solutions.  So…when you ask, "Do credit unions do VA loans?" Know that the answer is not a simple one, and that's why our organization is growing rapidly to serve this community.
Because SoCal VA Homes is such a unique company, many credit unions in Southern California refer their members to us to provide our unique & powerful programs to their Veteran members.
Call one of our SoCal VA Homes Client Service Specialists today at 949-268-7742 to see if your credit union is on our list.
As Seen on ABC 10 5:00 O'Clock News