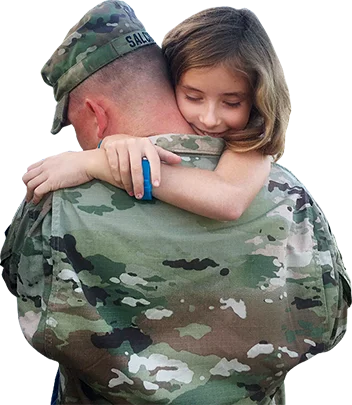 Why receiving Disability Income is an Economic Advantage for VA Home Loan Borrowers Especially When Getting a VA Cash-Out Refinance Loan
Veterans who have disabilities as a result of their military service are eligible for special benefits including, but not limited to, remarkable terms on cash-out refinances. If you are a Veteran who suffered physical or mental disabilities during or post military service, you can apply to the U.S. Department of Veterans Affairs and the VA will reward you some level of Disability Benefits from as little as a 10% rating, up to 100%. Of course VA disability payments are the benefit that no one wants to need, though many are grateful it is available for our wounded American heroes.
In short, receiving a disability grant gives you an advantage with regard to the VA loan funding fee. The VA funding fee is unlike any other loan fee. Technically, the VA funding fee is contributed into an "insurance pool." This pool creates a U.S. government-backed partial guarantee for the lender, against borrower default. One economic advantage of receiving disability benefits is that you are entirely exempt from paying the VA funding fee. (See the notes on the VA funding fee in Chapter 2: How To Buy a Lovely Home.)
Being exempt from paying the funding fee is a big deal. It is not only a big chunk of change that does not get added to your loan balance, but it is a policy that can provide other huge advantages.
Let's look at a specific example and run some exact numbers. The financial health of the VA Guaranty is the funding fee. For a first time user, on a purchase loan, the VA funding fee is 2.15% on a zero down payment loan. As an example, if you are borrowing $300,000 for a no down payment purchase loan, 2.15% or $6,450 is added to your loan balance for a total loan amount of $306,450. Yet if you are receiving disability benefits, you are exempt from the VA funding fee, a savings of $6,450! That is a distinct advantage! All of the people who are fortunate enough to not receive disability benefits are supplementing you. You are getting the same amazing VA Home Loan Benefit, even though you aren't paying the funding fee, all while you are getting a very reasonable sum of tax-free money paid to you monthly in your disability income.
The Economic Advantage of Receiving Disability on VA Cash-Out Refinances.
Let's say that you're receiving disability and are exempt from having to pay the VA funding fee. Let's also imagine that you bought a house and after several years the house appreciates 25%. At this point, you want to take cash out of the home. A cash-out loan is a loan where your property is appraised, based on established guidelines, and you are allowed to take a certain amount of money out by funding a new larger loan amount. When receiving VA disability income, again, you are exempt from the VA funding fee. The VA guidelines are such that they'll allow the lender to do a cash-out loan all the way to 100% of the value of the home!
If you are not exempt, and you are not receiving Disability payments from the VA, then your funding fee is 3.3% of the loan amount. If you apply for a $300,000 loan, the $9,900 gets added to that "base loan amount" for a total loan amount of $309,900, including the funding fee which gets added on top of the loan.
But the Veteran who receives Disability payments doesn't have to pay that 3.3%, that additional loan balance requires higher payments which add up fast!
Another advantage to receiving disability benefits is how such a cost effective cash-out refinance can help you consolidate debt. For example, if your house was purchased for $300,000, imagine that it appreciates to $325,000. Meanwhile, as it appreciates, you accumulate $25,000.00 of credit card debt. Perhaps rates drop 1%, and you want to take advantage of lower rates and pay off those credit cards. The Veteran without a disability rating would make payments on a new loan balance of $325,000 plus a funding fee of 3.3% or $10,725 for a total loan amount of $335,725. Contrast that with the Veteran who has a disability rating. He or she doesn't have to add the $10,725 to the new loan balance and make higher payments. that ability to do a cash-out refinance without the 3.3% funding fee radically reduces their closing costs on the VA cash-out loan. It becomes a much more efficient and economical way to access your equity compared to your counterpart who is paying that funding fee of 3.3%.
There are so many financially advantageous ways to apply the "discounted closing costs" that results from the exemption from the VA funding fee. The ability to access every bit of your home equity through a VA cash-out refinance and apply this discount is an incredible benefit. It should be considered a "staple" element in your toolbox to maximize the effectiveness in your financial planning.
Take advantage of the economic advantage of no VA funding fee on your refinance or next purchase. Let SoCal VA Homes help. Call us at 949-268-7742.
As Seen on ABC 10 5:00 O'Clock News